India Beyond the Taj Mahal - 11 Must Visit Travel Destinations
Travelling in India is becoming synonymous with visiting well known sights and sounds like the Taj Mahal or the famous backwaters of Kerala, like Alleppey.
While there is no doubt these places need to be visited, have you thought about visiting those destinations in India that are not very famous?
There is a plethora of unseen wonders in India that are absolutely perfect replacement choices for traditional travel locations. Some of them actually offer an experience that is much better than those offered by the "well-known" destinations, and which you remember for a very long time.
From snow-capped mountain ranges to quaint and tranquil villages, here are 11 most non- clichéd places in India you must visit.
1. Gokarna- An Undiluted Beach Experience
Located in Karnataka, Gokarna is a small town that sits on a secluded seaside spot, about 450 km from Bangalore.
It is home to India's four most pristine beaches and a collection of beautiful temples. If fact, Gokarna's beaches could easily rival the beaches of Goa.
2. Khimsar- Too good to be true
A tiny hamlet perched on the edge of the Great Thar Desert in Rajasthan, Khimsar is a picturesque destination.
The major attractions of this place are the Khimsar Fort and the Khimsar Dunes Village. The magnificent Khimsar Fort, set in the midst of sand dunes has also been awarded the Grand Heritage award for Excellence. It is the epitome of Rajasthan's spellbinding history.
What's the most fascinating aspect?
The 21st generation of the royal lineage still resides in the fort!
Khimsar is easily accessible by road from nearby towns. If you are travelling from Jaipur and comfort is your utmost priority, then the Jaipur to Jodhpur taxi is a great option. These two places are also rich in history and character. From Jodhpur, you can head to Khimsar, which approximately takes about two hours.
3. Majuli- Epitome of Beauty
Right in the midst of the Brahmaputra River in Assam, lies the river island of Majuli. It is one of the largest river islands in the world and is home to nearly 100 species of birds.
A small and different world altogether, the river island stands as an exemplar of scenic beauty and cultural wonders.
Here comes a shocking aspect- Surveys indicate that the island will cease to exist within 20 years, as it might submerge under water. So, if you wish to visit this spectacular place, now is the right time.
4. Mokokchung- Gem of Nagaland
One of the most significant historical locations of India, Mokokchung is an urban hub in Nagaland. Perched high on a hill, this district is an eclectic mix of new age attractions and historical monuments.
You will be fascinated by the immense history and heritage of this place.
Under the canopy of blue sky, this little place is a mesmerizing sight.
5. Rann of Kutch- One of the World's Largest Salt Deserts
A geographically unique landscape, the Rann of Kutch is located in the heart of the Thar Desert. It is home to about 18 varied tribes. This seasonal salt marshland is one of the most ethnically diverse districts of Gujarat.
It is a cradle of craftsmanship and is very well-known for ethnic styles of embroidery, pottery and various other crafts.
What is one of its major highlights?
It hosts the cultural festival of Rann Utsav every year, a manifestation of the creative ingenuity of artisans, a wide array of folk music and dance performances.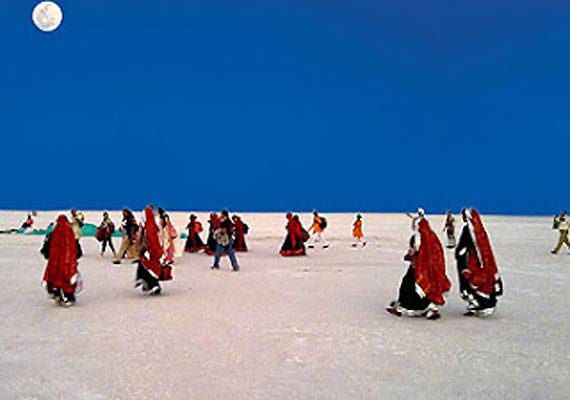 6. Tamenglong- Land of the Hornbills
Rich with cultural and natural diversity, the district of Tamenglong is located in Manipur. It's a pristine landscape and a hub of various exotic species of flora and fauna. This place has the ability to overwhelm you with its natural beauty.
It's also home to various species of hornbill, which is another reason why you must visit Tamenglong.
7. Turtuk- Famous for its sweetest Apricots
Tucked away in the narrowing Shyok River Valley in Ladakh, Turtuk is one of the most beautiful villages you will ever come across.
Interesting Fact: Turtuk is the closest you can get to Pakistan. The Indo-Pakistan border is barely 3 km away.
Far away from the tourist traps and the only aesthetic Baltistan village, Turtuk is very well-known for the sweetest apricots you can ever find in the country.
8. Unakoti- An Archaeological Wonder
Located about 180 km from Tripura's capital, Agartala, Unakoti is one of the most unique and underrated destinations in the country.
Unakoti, the Shiva Pilgrimage has gigantic carvings of Hindu gods and goddesses and some of them are over 30 feet tall. Unakotiswara Kaal Bhairava, the head of Shiva is one of the most beautiful carvings on the hill face. The stately sculpture's headdress alone is over 10 feet tall. Lots of other deities such as Vishnu, Ganesh, Hanuman and Durga complete the pantheon.
This archaeological wonder has a very fascinating mythological tale, one that will undoubtedly amaze you.
9. Valley of flowers- A Blooming Wonder
Valley of flowers is a trek that should not be missed for anything. Panoramic views of the mountains, lush greenery and the overpowering scent of blossoming flowers are some of the scenic features, this valley has to offer. This place demands to be in your travel bucket list.
10. Ziro Valley- Land of Picture-Postcard Villages
Tucked away in the Eastern Himalayas of Arunachal Pradesh, Ziro is one of the most serene and beautiful landscapes of India.
With verdant green fields and picturesque villages that are home to the fascinating Apatani tribe, it shows Arunachal Pradesh at its best.
This hidden valley is an ideal place for a weekend getaway.
11. Bandhavgarh National Park
A natural abode to a plethora of wildlife species, Bandhavgarh National Park is located in the Vindhya Hills of Madhya Pradesh. The National Park is very well-known for the elusive white tigers.
This park boasts of having the highest density of tiger population in the country. With so much of flora and fauna to see, you will be left amazed.
If you wish to travel to some place magical or simply to find yourself, these are the places you must visit. Sedate, fascinating and basking in the lap of nature, these destinations promise to provide a mesmerizing experience- one that will be forever etched in your memory.